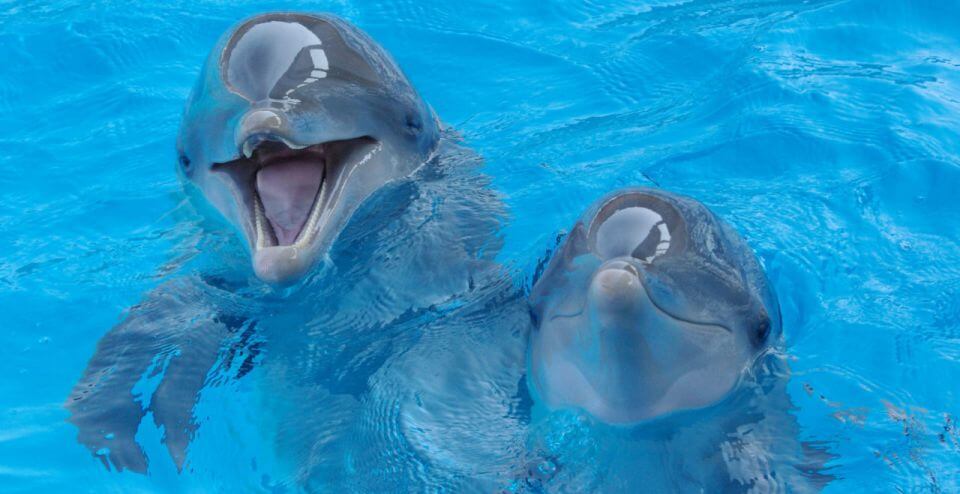 EDUCATION INTERN
In the months of June and July, Gulf World will be offering education internships to interested college students. During this unique, hands-on program, interns will participate in experiential learning through both formal and informal environmental education.
As an intern in our Education Department, you will be given the chance to transform our facility's educational vision into a tangible guest experience for our visitors. You will act as a camp counselor for our Dolphin Day Camps, present informal public presentations, assist in coordinating field trip groups, and work on various special projects to benefit your future teaching career.
The education internship is a paid position and requires at least a 30 hour work week which includes weekends and holidays. If you are interested in applying for an education internship position, please complete an education internship application and return it to us with your cover letter and resume. Please fax your completed application to (850) 235-8957
Summer: June & July     Application Deadlines: April 15th
****************************************************************************************************
ANIMAL CARE & TRAINING INTERN
Gulf World Marine Park is now seeking applicants for a paid internship position in the Animal Care and Training Team. Interns will be exposed to animal care and training techniques and will work directly with animal training staff to support the daily care of our collection. Selected applicants will work in animal show settings as well as guest swim and interaction programs. Once selected, intern will be placed in either of three animal areas in the park: The Dolphin Area, which cares for our collection of bottlenose dolphins; The Sea Lion Area, which cares for our collection of California Sea Lions, Black footed Penguins, and the only collection of rough toothed dolphins in the US; or the Avian and Small mammal Area which cares for our collection of exotic birds and domestic mammals. As the Southeast Area Stranding Coordinator, marine mammal staff are also responsible marine mammal and turtle standings and rehabilitation.
Responsibilities
Specific responsibilities will vary based on area and will include but are not limited to:
Diet Preparation
Food Prep Kitchen cleaning and bucket scrubbing
Habitat cleaning, maintenance, and upkeep
Water quality testing and filtration
Education portions of guest interactions
Monitor guest interactions
Operate show sound
Animal observations
Assisting with animal training, husbandry, and handling
Requirements
All applicants should be at least 18 years of age, have proof of US citizenship,  and either pursuing or have a completed Bachelor's Degree. Preference will be given to those with previous animal care experience (internships, previous employment) but is not required.  Applicants should be comfortable standing and working on their feet for long periods of time in all out door conditions. Depending on the season, Florida weather will range between extreme heat and sunshine and cold temperatures and storms. Daily heavy lifting is required, so candidates should be able to lift a minimum of 50 lbs. Working around the water will also require strong swimming abilities.
Contact: [email protected]
Summer: May-Aug     Application Deadlines: Feb 15th
Fall: Aug-Nov               Application Deadline: June 1st
Spring: Jan-April       Application Deadline: Oct 15th
To apply, please submit a completed application (below), cover letter and resume. Due to high number of applicants, incomplete application will not be considered.

Learn more about ABC Animal Training Now at Gulf World by Dolphin Discovery
************************n****************************************************************************
VETERINARY INTERNSHIP PROGRAM  
*Applicants for 2016 have already been selected.*
Gulf World Marine Park Veterinary Externship Program
The Gulf World Marine Park veterinary medical externship is designed for veterinary students, preferably during their senior level or fourth year at an accredited veterinary college. This program offers exposure to a large number of fish, reptiles, birds, and marine mammals including the only collection of Rough-Toothed Dolphins in the United States. Gulf World Marine Park is also a participant in the Southeast Region for the Marine Mammal Stranding Network, so students will participate in the emergency response team during stranding events.
STUDENTS IN CLINICAL ROTATIONS:
Senior students are selected each year to participate in the 4-6 week externship; only one student is on-site at a time. Externship times are available during January-February. A maximum of 2 students will be selected each year for the clinical externship. During this time, students are given the opportunity to observe and participate in various clinical activities under the direction of the veterinary staff. Responsibilities are assigned based on each student's level of interest and aptitude. Students must complete a project, which will be determined in the first week.
STUDENTS THAT ARE 1st AND 2nd YEAR VETERINARY STUDENTS:
One first or second year veterinary student may be selected for a summer externship. This externship is an 8-10 week program, which will teach the student basic medical training with marine mammals. No senior student will be allowed an externship during the time of the summer externship time slots.
ELIGIBILITY AND HOW TO APPLY
All externships are paid, and students are responsible for their own transportation and housing arrangements.
Third and fourth year students must submit applications for externship year beginning February 15 and ending March 15. First and Second year students interested in the summer  externship may submit applications between March 15- April 1.
All students interested in the Veterinary Medical Externship should send a letter to the address below. This letter should include reasons for wanting to participate in the program and dates of availability. It is recommended that applicants list at least three prioritized availability dates. In addition, students must submit a curriculum vitae, two letters of reference, and proof of U.S. citizenship. All application materials should be forwarded to:
Gulf World Marine Park
Attn: Veterinary Externship
15412 Front Beach Road
Panama City Beach, FL 32413