Click here for more info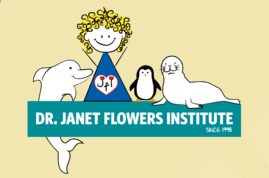 Animal Therapy for Special Needs Children.
Gulf World Marine Park hosts researcher Dr. Janet Flowers, CCC-Speech Language Pathologist, and her program to provide communication therapy for special needs children.
Dr. Flowers work is based on the concept of emotionally arousing experiences (marine mammal interaction) as a pathway to skill acquisition and long term memory.
Requirement for Students:
1. Child must be between the ages of 2 to 12 years
2. Must be deemed as low risk to marine mammals
3. Families will provide current therapy(s) goals and objectives already in place at the child's home school /therapy service prior to arrival for the child's first session. This will provide Dr. Janet Flowers and her team the infomation they need to set up an individualized program for each child prior to his/her arrival.
For more information visit Dr. Flowers website www.drjfi.org
Read about Dr. Flowers in the Autism Health and Wellness Magazine
Read about Dr. Flowers on ASHA.org
Read about Dr. Flowers in the Bay Life Magazine