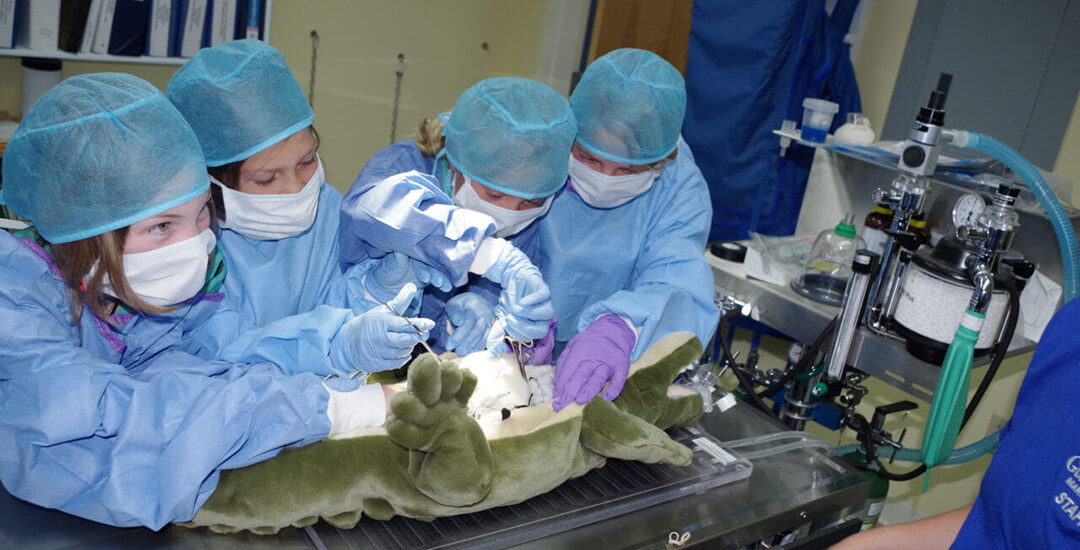 Book Online!
This specialty summer camp is available in June and July only.
Thinking about becoming a veterinarian?
Participate in Gulf World Marine Park's Vet Camp and take part in the daily life of our Veterinary Staff.
Throughout the day you will learn about the internal structure of marine mammals, perform husbandry (medical) procedures on "animals", and use critical thinking skills to determine a diagnosis for patients.
Vet camp is offered to children, ages 7-11, each Wednesday in June and July.
Each camper will receive a Vet Camp scrub top, a digital photo with an animal, pizza lunch and a snack.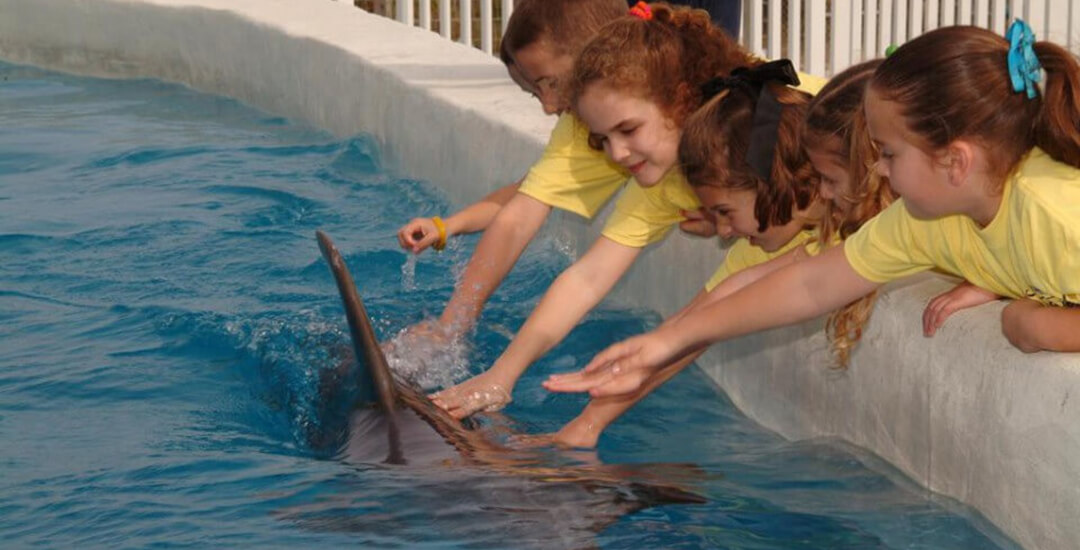 Book Online!
Come and spend the entire day at Gulf World Marine Park meeting all of our amazing animals.
You will get up close and personal during behind-the-scenes tours and private sessions with our dolphins. You will assist in training sessions, see our exciting shows and learn tons of fun facts about marine life.
Dolphin day camp is offered to children, ages 7-11, Tuesdays and Thursdays in June and July along with selected days through the year)
Snooze with the Sea Life is the perfect get-a-way for any organization, club, or large family group. The overnight program kicks off with a nighttime tour of the park, where you'll learn about the nighttime habits of marine animals and hear fun stories about your favorite flippered friends.
Before bedtime, you'll watch a short movie, and in the morning you'll enjoy a very special, private session with our dolphin(s).
Field Trips
Take a trip out of your classroom and into ours during a field trip to Gulf World Marine Park! We offer special group rates and field trip opportunities to school groups, boy and girl scout troops, and many more groups and organizations.
During your time at Gulf World, your group will encounter exciting animals from around the world, including dolphins, sea lions, alligators, sharks, penguins, flamingos and tropical birds. Through experiential learning and up-close animal interactions, students will discover the importance of the ocean's fragile ecosystem—as well as ways to protect the environment in their everyday lives.
Here at the park, we also realize the emphasis teachers place on state educational standards. To help with curriculum planning, therefore, we have created many helpful activities, games and lesson plans to assist teachers in the classroom—before, during, and after a field trip to Gulf World.
For more information on field trip opportunities, please contact us at 850-234-5271 or [email protected]