Gulf World is celebrating Halloween! Enter our ghostly and ghoulish marine world…You don't want to miss the Halloween shows. The dolphins are experiencing a bunch of hocus pocus, the birds are going through a series of feathered and unfortunate events and the sea lions are taking you on a pirate adventure! Halloween themed shows all month long! Mermaid Mondays, Witches Wednesdays and Wicked Wednesdays are on select dates!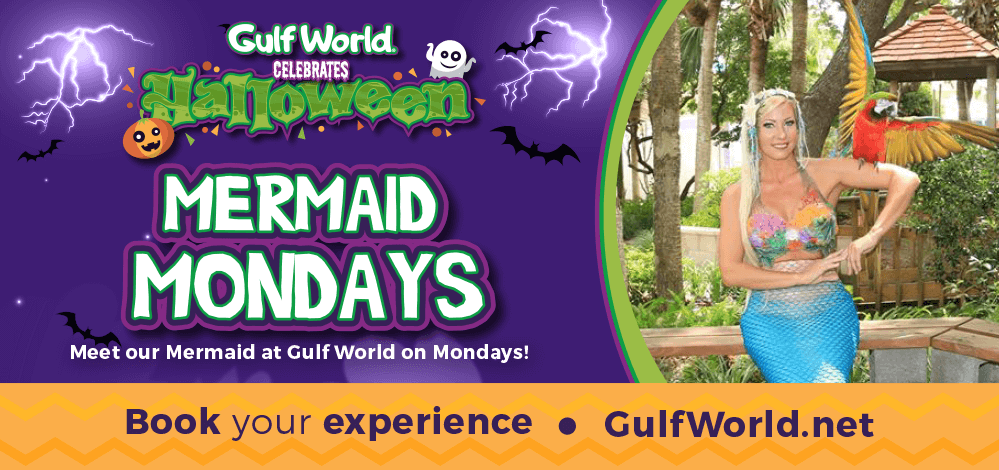 Meet a REAL mermaid on Mermaid Mondays from 10:00 am – 1:00 pm. Dress like a mermaid for a special discount.
Mermaid Monday Dates: September 17th, September 24th, October 1st, October 8th, October 15th, October 22nd and
October 29th (Included with general admission)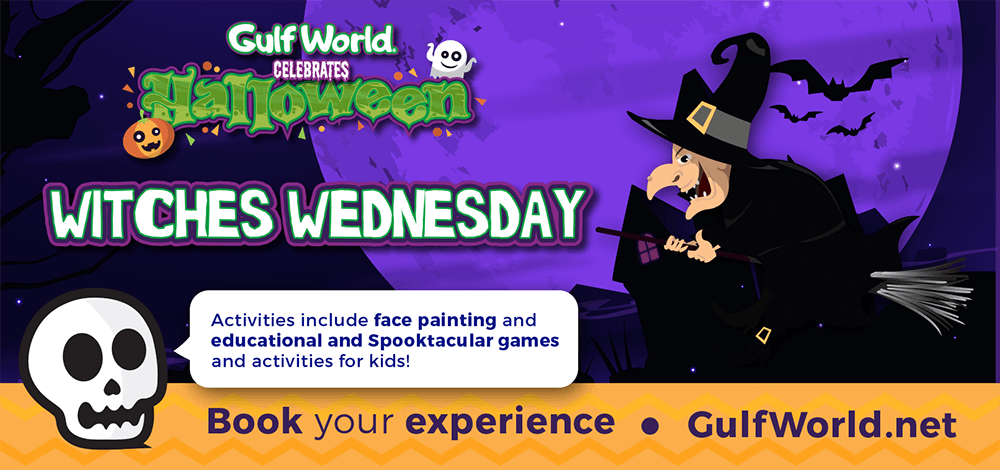 Witches Wednesdays from 10:00 am – 1:00 pm includes face painting and activities for kids! Don't miss the Halloween themed shows! Witches Wednesday dates: October 3rd, 1oth, 17th, 24th, and 31st! (included with general admission)
Wicked Wednesdays after Hours Event at Gulf World.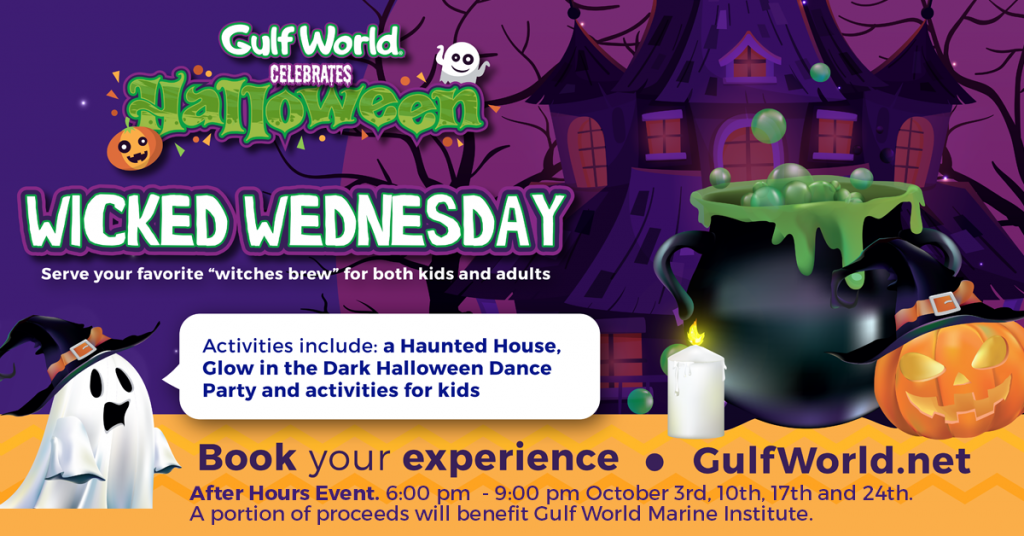 Book online now!
Wicked Wednesdays, Gulf World's NEWEST after hours event, includes a HAUNTED HOUSE, glow in the dark Halloween dance party and activities for kids.
Wicked Wednesday Admission Prices:
Adults (ages 12 and up) $12
 Kids (ages 5 – 11) $10
Admission Price Includes entrance into haunted house, glow in the park dance party and activities for kids.
After Hours Event. 6:00 pm – 9:00 pm
October 3rd, 10th, 17th and 24th.
$2 of each ticket purchased go to Gulf World Marine Institute 501c3 non profit organization.
GWMI is dedicated to the rescue, rehabilitation and release of marine mammals and sea turtles.
Click here to learn more about GWMI.
*Witches brew not included in admission price.
*General admission to Gulf World during regular operating hours is not included with this purchase.